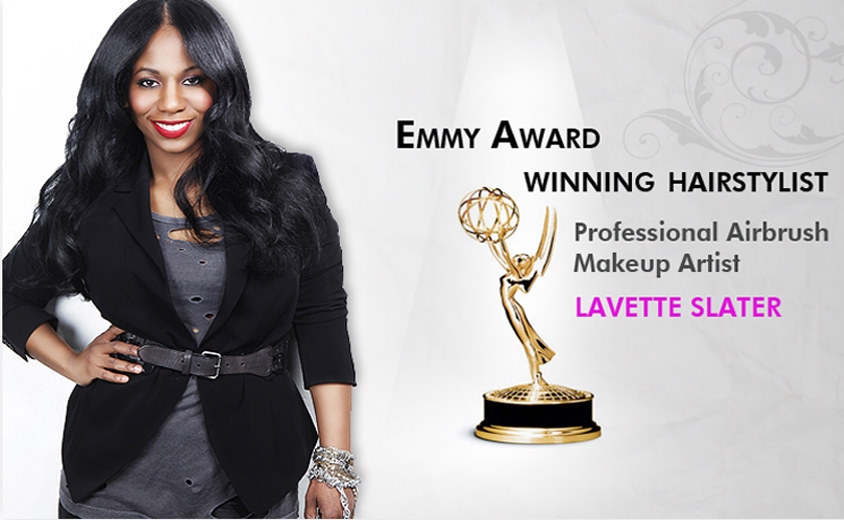 Three Time Emmy award winning hairstylist Lavette Slater was featured as an expert on the 90's throwback hair-themed episode of ABC's the "FabLife" show. Ms. Slater discussed hair trends, styled three models hair and shared tips on how to create the stylish, sophisticated do-it-yourself looks.
The first look was inspired by the 90's scrunchie. Ms. Slater stated, "In the 90's the scrunchie was often worn in many colors and was more of a teen style". Fast forward to 2016 she wanted to create a more sophisticated and grown up look. She looked at Selena Gomez as a muse and recreated a look she had worn with a scrunchie. She styled the models hair in a high ponytail with a chic messy long braid with an all black scrunchie to cover the base. She used virgin Indian hair 30″ long from Perfect Locks hair extensions to create the look.
The second look was the popular 90's favorite, crimps. Ms Slater stated, "Crimps in the 90's was also for teens. Young girls often crimped their own hair at home with their crimping iron, fast forward to 2016 crimps are more strategic and placed in different spots. The look I created for the Emily is strategic I gave her a deep side part with a section that I crimped in the side sweep and also a sleek ponytail with crimps in the ponytail."
The last look was the ultra trendy braided cornrows. When describing what influenced the look Ms. Slater stated, "In the 90's cornrows were small, it was more like your own hair braided into 6 or more rows. Cornrows 2016 is bigger but less rows. For Arianna I added hair from Perfect Locks and blended with her own hair to create the look."
When asked about the controversy of other ethnicities wearing braided styles Ms. Slater said, "I don't think there is a cultural misappropriation, anyone can try a style and love the culture. It's what is being said that makes the issue. Cornrows have been around for a very long time, styles come and go and come around again sometimes people call it something different but it's the same style upgraded a bit."
If you have not had a chance to watch the segment, check out the link below.
http://fablifeshow.com/beauty-biz/throwback-beauty-trends/
About Lavette Slater
Lavette Slater is a three time Emmy Award Winning Hairstylist, Makeup Expert and On Air TV Beauty Expert with over 15 years of creative experience; she is best described as an ambassador of beauty; the highest rank official of all things that makes us beautiful. At the height of her career as the Supervisor and Key Hairstylist at ABC's "The View," this 10x Emmy Award Nominee and Winner of the 34th, 35th and 36th Annual Creative Emmy Awards for Outstanding Achievement in Hairstyling, has styled the tresses of actors such as Chandra Wilson, Glen Close, Jennifer Hudson and top political figures; Hillary Clinton and our elegant first lady, Michelle Obama. With her artistic vision and impeccable attention to detail, Slater's skills extend to hair extensions as well as a multitalented makeup artist, which includes professional airbrushing, tanning, contouring and tattoos. Slater has the ability to effortlessly capture the essence of her clients' personality and star power by creating a look that is unique to them.
As a master of her craft, Slater has been credited for giving show ideas for on-air segments on the popular television show "The View" . Her styling finesse is no stranger to a few well known publications; Marie Claire, People, US Weekly, Essence, and Hamptons Magazine to name a few. Slater made a mark in publication history for being the key factor to Kate Gosselin's extreme transformation from long to short; People Magazine named her style "One of the most memorable style moments of the year".
Slater is constantly working on her own innovative techniques and pushing the boundaries of hair and beauty. Her vision is to create her own line of wigs, cultivate new make-up trends, and provide her audience with easy do-it-yourself tips for all things hair. Slater is on track to expanding her legacy and making sure that the picture of that hairstyle you want; that subtle exquisite look you see in the media, you will recognize it and know it was done by, Lavette Slater, beauty master.
Ms. Slater is currently working on hosting and producing the 2nd taping of her successful celebrity panel series, Salon Diaries (SD). The first installment of Salon Diaries was held in 2014, at Trump Towers and the turnout and atmosphere was fun, exciting and full of commentary, to say the least. This year, Salon Diaries will be raising money to donate to the Salvation Army Central Maryland in an effort to assist in the rebuilding of Baltimore after the riots.
Ms. Slater is also working on her reality makeover series Creating A New You, where she styles and transforms her participants with a brand new look from head to toe. She also gifts complimentary beauty products, offers expert beauty advice along with a fresh new hairstyle as well as a beat face. Each episode caters to people with refreshing stories, compelling journeys and guest that just want a fab new look!
Lavette Slate is expanding her brand and will soon launch a natural hair additions.
To keep up with Lavette Slater check out her social networks and website below:
Twitter:@LavetteSlater
Facebook: LavetteSlater
Website: http://www.LavetteSlater.com